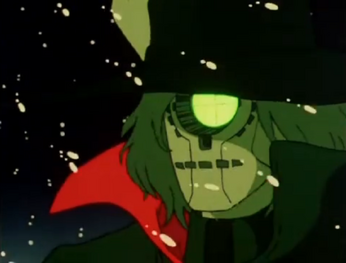 Count Mecha is the villain in the first episode of Galaxy Express 999 and is the main cause of Tetsuro Hoshino's troubles. He is portrayed as a game hunter that targets humans.
Galaxy Express 999 (Anime)Edit
In Episode 1 "Departure Ballad" of the anime series, Count Mecha shoots and kills Tetsuro's mother. Tetsuro then seeks revenge on him and kills him within the same episode.
Film Version of Count MechaEdit
In the anime Count Mecha is killed by Tetsuro within the first episode, but the film version of Galaxy Express 999 has Count Mecha featured as the main antagonist.