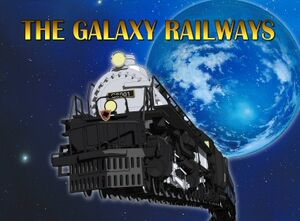 Big One is an SDF locomotive in the Galaxy Express 999 spinoff show The Galaxy Railways.
Appearance
Edit
Big One is painted in the typical livery given to its basis. On its tender is the number 001, a shorter version of its official number, G8001. In the sequel series, Galaxy Railways: Eternal Divergence, it gains smoke deflectors and a larger cowcatcher (which looks more like a snowplough.) Big One's wheel arrangement also changed, In the sequel series it is a 6-8-8-4 instead of a 4-8-8-4.
Big One is based on the Union Pacific's 4000 class of 4-8-8-4s, commonly called "Big Boys," albeit with an extra headlight in place of its bell and the Sirius Platoon insignia bolted to where the Union Pacific Shield would be on the prototype.
Like all SDF locomotives, Big One has a cannon mounted in its undercarriage. Big Ones coaches are specially built for medical attention, rescue, and features cars with rotating turrets.